Paradise Above Water: Discovering the Best Overwater Bungalows in the World
Imagine waking up to the gentle sound of waves beneath your feet, stepping out onto your private deck, and being greeted by a breathtaking view of crystal-clear waters. Overwater bungalows offer an unparalleled experience of luxury and serenity, making them some of the most sought-after accommodations for travelers seeking a truly unique escape. In this blog, we'll take you on a journey to explore the best overwater bungalows in the world, each offering its own slice of paradise.
The Maldives: Paradise on Earth
The Maldives, an archipelago of 26 coral atolls in the Indian Ocean, is synonymous with overwater bungalows. With their thatched roofs and wooden stilts, these luxurious abodes are iconic and symbolic of tropical paradise. Some of the best overwater bungalow resorts in the Maldives include:
a. Gili Lankanfushi
   - Located on Lankanfushi Island, this eco-friendly resort boasts spacious overwater villas, each with a private sundeck and direct access to the turquoise waters of the lagoon.
   
b. Soneva Jani
   - Situated in the Noonu Atoll, Soneva Jani offers guests the chance to stargaze from their own overwater observatory. It's the ultimate blend of luxury and natural beauty.
Bora Bora: A French Polynesian Gem
Bora Bora, often referred to as the "Pearl of the Pacific," is another dream destination for overwater bungalow enthusiasts. This remote island in French Polynesia is known for its stunning coral reefs and translucent waters. Two of the most famous overwater bungalow resorts here are:
a. Four Seasons Resort Bora Bora
   - This luxurious resort features spacious bungalows with glass floors, providing guests with an immersive view of the marine life beneath their feet. The Mount Otemanu view from here is mesmerizing.
b. St. Regis Bora Bora Resort
   - Nestled in the shadow of Mount Otemanu, this resort offers overwater villas with private outdoor showers and direct access to the turquoise lagoon.
3. Fiji: A South Pacific Paradise
Fiji, with its lush rainforests and vibrant coral reefs, offers a unique overwater bungalow experience. Here, you can immerse yourself in the rich Fijian culture while enjoying the comforts of a luxurious water villa. Consider staying at:
a. Likuliku Lagoon Resort
   - This adults-only resort is a haven for romance seekers. Its overwater bures (traditional Fijian huts) are beautifully designed and offer stunning views of the lagoon.
4. Thailand: Tropical Elegance
Thailand, known for its vibrant culture and stunning landscapes, also boasts some incredible overwater bungalow options. Overwater accommodations in Thailand offer a blend of modern luxury and traditional charm. Explore:
a. Six Senses Yao Noi, Phang Nga Bay
   - Set amidst limestone karsts and emerald waters, this resort offers spacious villas with private pools and stunning panoramic views of Phang Nga Bay.
5. The Seychelles: A Slice of Paradise
The Seychelles, an archipelago in the Indian Ocean, is famous for its pristine beaches, granite cliffs, and lush forests. Overwater bungalows here provide an intimate escape in a tropical paradise. Discover:
a. North Island, a Luxury Collection Resort
   - This exclusive resort offers just 11 private villas on a pristine private island. Each villa comes with a personal butler, making your stay truly luxurious and indulgent.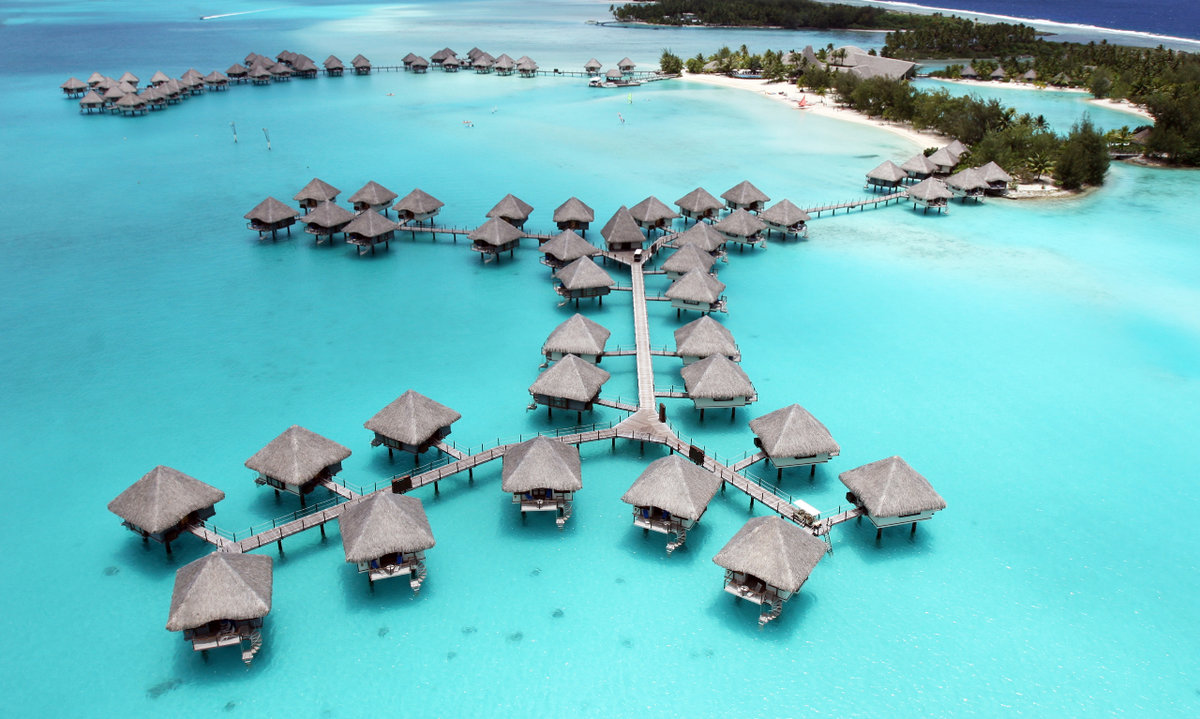 The Caribbean: Tropical Getaways
While overwater bungalows are often associated with the South Pacific and the Indian Ocean, the Caribbean also has some hidden gems to offer.
a. Sandals Royal Caribbean, Jamaica
   - Located in Montego Bay, this resort boasts luxurious overwater bungalows with glass floors, private infinity pools, and personalized butler service.
The Philippines: Island Paradise
The Philippines is an emerging destination for overwater bungalow enthusiasts, offering a more budget-friendly option while still providing an incredible tropical experience.
a. El Nido Resorts, Palawan
   - Situated in the pristine waters of Palawan, El Nido Resorts offers overwater bungalows surrounded by limestone cliffs and crystal-clear waters.
Overwater bungalows provide an unparalleled opportunity to escape the ordinary and immerse yourself in the beauty of the world's most idyllic destinations. Whether you choose the Maldives, Bora Bora, Fiji, Thailand, the Seychelles, the Caribbean, or the Philippines, each of these destinations offers its unique blend of luxury, natural beauty, and cultural experiences. So, if you're dreaming of a vacation that combines luxury with adventure, consider booking a stay in one of these best overwater bungalows in the world for a once-in-a-lifetime experience in paradise.