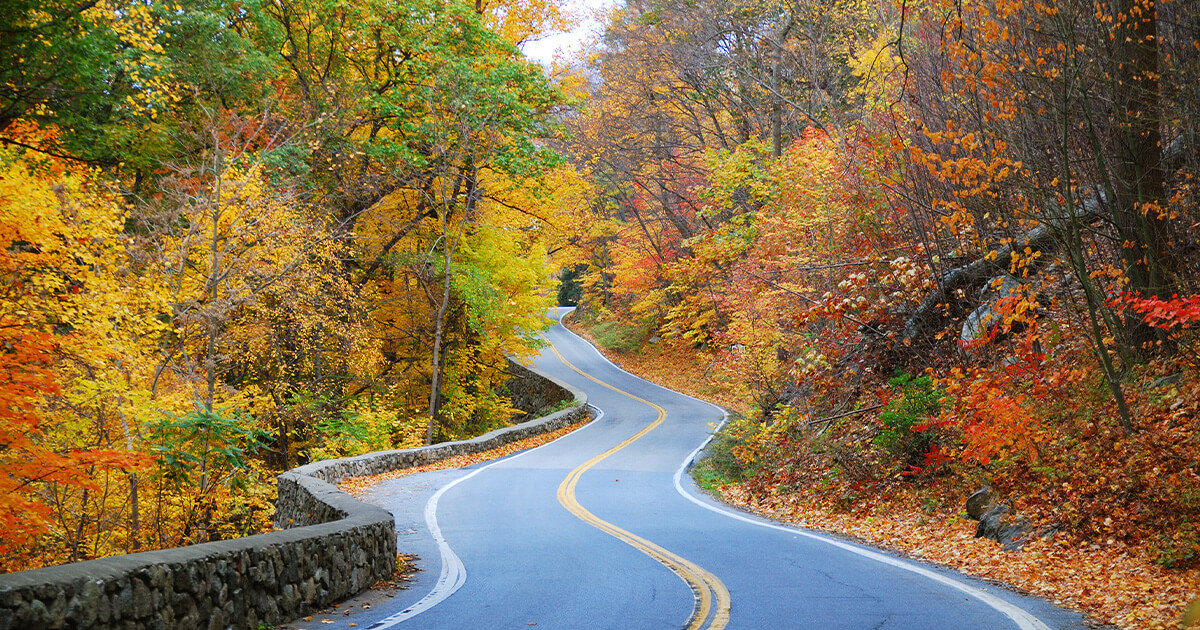 Imagine the crisp air filling your lungs as you drive down a winding road, surrounded by a breathtaking array of colours.
The trees are ablaze in shades of red, orange, and gold, and the whole landscape seems to be painted by the hand of a master artist. If this scene sparks your wanderlust and fills you with the desire to go on a road trip, you're in the right place.
Ontario, often known for its stunning landscapes and natural wonders, undergoes a magical transformation in the fall. As the summer heat gives way to cooler temperatures, the province becomes a canvas for Mother Nature's most captivating artwork. The forests, lakes, and small towns of Ontario come alive with the vibrant hues of autumn, making it a must-visit destination for nature enthusiasts, adventurers, and anyone seeking an escape from the ordinary.
In this blog post, we're here to take you on a virtual journey through the heart of fall in Ontario. Whether you're a seasoned road trip enthusiast or someone looking for a new adventure, you'll find inspiration and practical advice for planning the ultimate fall road trip in this guide. We'll unveil some of Ontario's hidden gems and share routes that offer the most breathtaking views.
As always, our team at NorthStar Travel is here to assist you in planning an unforgettable travel experience! Be sure to reach out to us and we'll get started on planning your dream getaway together.
You deserve to experience everything this world has to offer.
But First, We Plan
The fall season in Ontario typically spans from late September to early November. Peak foliage varies across the province, with northern regions changing earlier than southern ones.
To catch the most vibrant fall colours, consider planning your trip during the first half of October. Check local fall foliage prediction resources for accurate timing in specific areas.
Tips for Planning a Successful Road Trip
Research your desired destinations in advance and create a rough itinerary.

Be flexible with your schedule to accommodate unexpected discoveries.

Plan for longer driving times due to potential traffic and frequent stops for photos.

Make reservations for accommodations, especially if you're traveling during peak season.

Keep a mix of planned activities and free time for spontaneity.
Packing Essentials for a Fall Road Trip
Layered Clothing: Pack clothing suitable for changing temperatures. Include sweaters, jackets, and waterproof gear.

Comfortable Footwear: Choose sturdy walking shoes or hiking boots for exploring.

Road Trip Essentials: Ensure your vehicle is in good condition and equipped with a spare tire, tools, and emergency supplies.

Maps and GPS: Have both physical maps and GPS navigation systems to stay on course.

Snacks and Hydration: Carry a variety of snacks, reusable water bottles, and a thermos for hot drinks.

Camera and Binoculars: Capture the beauty of fall and spot wildlife with these essentials.

Entertainment: Bring music, audiobooks, or podcasts for entertainment during long drives.

Personal Items: Don't forget your ID, insurance, and any necessary medications.
Take The Scenic Routes
Ontario's fall foliage is a sensory experience that goes beyond sight, as the rustling leaves, the earthy scent of fallen foliage, and the crispness in the air create an immersive encounter with the magic of autumn.

Get in the car, put on your most autumnal playlist, grab your seasonal beverage of choice and explore the following routes that are sure to be Instagram-worthy.
The Muskoka Loop
This iconic route takes you through the heart of Muskoka, one of Ontario's most picturesque regions. As you wind your way through charming towns like Bracebridge and Gravenhurst, you'll be treated to views of crystal-clear lakes framed by vibrant fall foliage. The Muskoka Loop is renowned for its stunning lake vistas, scenic lookouts, and opportunities for water-based activities like canoeing or cruising.
The Niagara Parkway
Follow the Niagara River from Niagara Falls to Niagara-on-the-Lake along the Niagara Parkway. This route offers unparalleled views of the Niagara Gorge, with the riverbanks adorned in brilliant autumn colours. Stop at Niagara Falls for a breathtaking experience, and then continue along the parkway to explore wineries, orchards, and historic sites.
Algonquin Park's Highway 60 Corridor
Algonquin Provincial Park transforms into a kaleidoscope of fall colours during autumn. The Highway 60 Corridor is a must for leaf-peepers, offering several viewpoints and hiking trails to immerse yourself in the vibrant foliage. Keep an eye out for wildlife like moose and deer that are more active during the cooler months.
The Georgian Bay Coastal Route
This scenic drive takes you along the rugged beauty of Georgian Bay's shoreline. As you travel through quaint towns like Parry Sound and Penetanguishene, you'll encounter dramatic views of rocky shores and endless water views framed by the fiery hues of fall. Consider stopping at Killbear Provincial Park for fantastic hiking trails and camping opportunities.
The Ottawa Valley
Head east to the Ottawa Valley, where rolling hills and the Ottawa River set the stage for a memorable fall journey. The Valley is dotted with charming villages, and the Heritage Highway 17 offers a great route for enjoying the autumn spectacle. Plan visits to local farms for apple picking or pumpkin patches to fully embrace the season.
The Northern Ontario Wilderness
For those seeking a remote and less-traveled road trip, venture into Northern Ontario. The Trans-Canada Highway offers a spectacular route, with forests ablaze in reds and yellows. Explore small towns like Sudbury or Sault Ste. Marie, and, if you're lucky, catch a glimpse of the Northern Lights in the crisp northern skies.
Outdoor Adventures for Your Fall Road Trip
Get out of the car to stretch your legs and enjoy some exciting outdoor adventures to make the most of your fall road trip in Ontario.

Here are some ideas we recommend:
Hiking: Ontario's trails come alive with the colours of autumn. Whether it's a leisurely stroll or a challenging hike, fall offers perfect hiking conditions.

Biking: Explore scenic routes and enjoy cooler temperatures for cycling adventures. Consider bringing your own bike or renting one locally.

Canoeing and Kayaking: Paddle along serene lakes and rivers while surrounded by the stunning fall foliage.

Fishing: Fall is a great time for fishing, with many species becoming more active as they prepare for winter.

Bird-Watching: Ontario is a haven for migratory birds in the fall. Pack your binoculars and bird guidebook.
Here are some hiking trails, biking routes, and other adventures that are worth adding to your list:
Bruce Trail: Discover the beauty of the Niagara Escarpment on this renowned hiking trail. It offers various difficulty levels and scenic lookouts.

Algonquin Park Trails: Explore a range of hiking trails within Algonquin Park, including the renowned Centennial Ridges Trail, offering panoramic views.

Waterfront Trail: This biking route follows the shores of Lake Ontario, providing a picturesque ride with numerous parks and beaches.

Elora Cataract Trailway: Ideal for cycling, this trail takes you through picturesque landscapes, including the stunning Elora Gorge.

Canoeing in Algonquin: Paddle through tranquil lakes, such as Canoe Lake or Oxtongue Lake, surrounded by fall's vibrant colours.

Rock Climbing in Rattlesnake Point: For adventure enthusiasts, this is a great spot to try rock climbing with scenic vistas.
And for those interested in wildlife viewing, here are the best places to catch a glimpse at them:
Final Thoughts
Are you feeling inspired to gas up the car, put on your favourite playlist, grab a pumpkin spice latte and hit the road? Fall is the perfect time to go on a captivating road trip through Ontario's fall foliage, where the crimson, gold, and orange leaves paint a breathtaking landscape.
This exciting road trip offers not only visual delights but also opportunities for outdoor adventures, from serene canoe trips on tranquil lakes to hiking iconic trails framed by the vibrant hues of autumn.
There's something for everyone to enjoy.
As always, our team at NorthStar Travel is here to assist you in planning an unforgettable travel experience! Be sure to reach out to us and we'll get started on planning your dream getaway together.
You deserve to experience everything this world has to offer.